Illinois (ECWd) –
During any health emergency is it asking to much to have accurate information from our Government?
Once again, the state has issued figures that frankly don't add up.
According to the Illinois Department of Public Health's situational update issued March 25, 2020, the following numbers of people have been tested for the China virus "COVID 19".
According to the published report, a total of 13,634 people have been tested….or have they?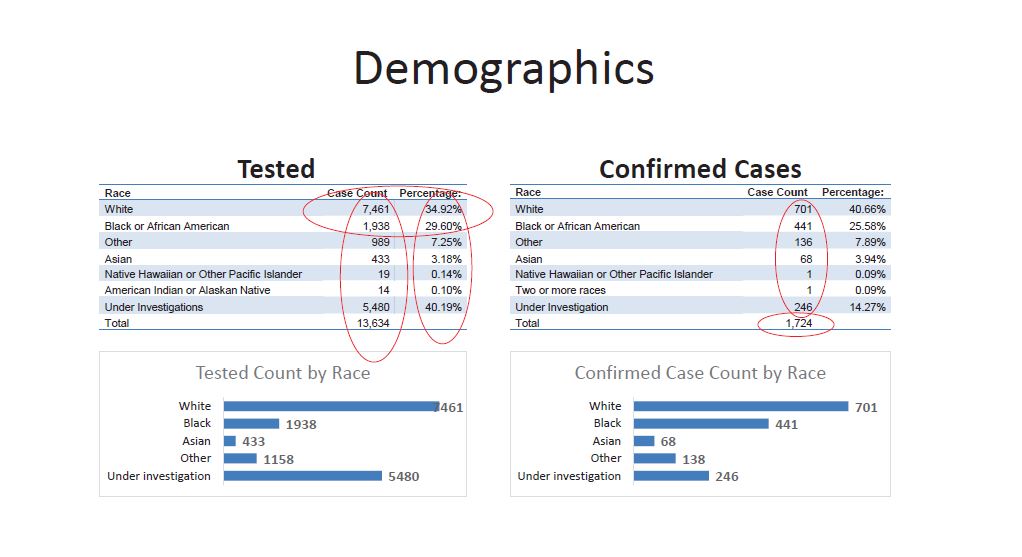 Adding up their own numbers of those tested, the math computes to 16,334, not 13,634.  So which is it? Are the total numbers transposed?
The report on demographics shows 7,461 Whites have been tested which they report as being 34.92%.
However, 34.92% of 13,634 is actually 4,760. At first glance, one would think it was simple transposing of the first two numbers, however, that does not explain why one figure ends with a 1 and the proper math ending in a 0.
The figures for Blacks reflect 1,938 have been tested which they report as 29.60%.
Anyone surprised to know 29.60% of 13,634 is 4,036, not 1,938?
So what is the real number of people actually tested?  Is it 13,634 and they screwed up on calculating the percentages or is it 15,758 total tested obtained by applying their percentage figures to their claimed 13,634, or is it really 16,334, the total of the total tested column in the report?
It gets better………or worse depending on if your cup is half empty or half full.
Adding up all the reported percentage numbers of those tested they are reporting 115.38%.  Can anyone explain how the total percentage of people tested can exceed 100%?
Adding up the confirmed case they report a total for each demographic and then an "under investigation" figure, with a total confirmed of 1,724.  However, adding up their own column reflects a total of 1,594.  So which is accurate in this report, 1,724 confirmed cases or 1,594?

Of great interest is the projection of new cases by the end of the month, March 31, 2020.  IDPH is predicting 23,862 cases. We hope that projection is wrong and only time will tell.  We also hope this is not an attempt to over project and then take credit for a job well done when those "projected" numbers are not hit.
You can download the IDPH situational update at this link.
20200325_IDPH_COVID19_Webinar_FINAL

Our work is funded entirely thru donations and we
ask that you consider donating at the below link.