Chicago, IL. (ECWd) -
Cook County State's Attorney Kim Foxx established a tip line to field complaints of sexual harassment at the Chicago Park District -
From her twitter message:
"No matter how old the allegation, if you believe that you have been a victim of sexual abuse or assault while working at the Chicago Park District, I ask that you call our Park District tip line."
The tip line phone number is 312-603-1944.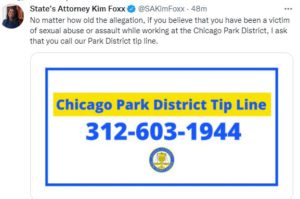 This move comes days after the Park District's CEO, Mike Kelly, resigned amid a widely publicized lifeguard harassment and abuse scandal.