Algonquin Township (ECWd) –
Yesterday in McHenry County Circuit Court, our Motion to Reconsider a previous Order denying (and then Staying production) a Motion to Quash a subpoena from Algonquin township for our DropBox files, including names of anyone who ever had access to them was heard.
The Court reconsidered the previous Order (here) and Granted our Motion to Reconsider, which Quashed the Subpoena issued to us from Algonquin Township.
In quashing the subpoena, the Court stated that we (Kraft, Allen, and ECWd) fall under the protection of the Reporter's Privilege Act ("RPA").  His previous Order was based on thoughts that Reporter's Privilege was similar to Attorney-Client Privilege, and after reviewing case-law on the subject provided in our Motion to Reconsider (People v. Silverstein, First District Appellate Court), found that higher courts have interpreted the RPA broader, giving more protection, than what he based his previous Order on.
When we get a copy of the transcript we will update accordingly as we believe people need to be able to read the judge's words to appreciate the importance of our justice system and the manner in which peoples rights are protected.
Also considered was our Motion to Index, that motion was also granted and Algonquin Township was given until July 24, 2019, to produce the index, which is a list of records we requested and reasons they were not provided. There is a status hearing scheduled for on July 31, 2019.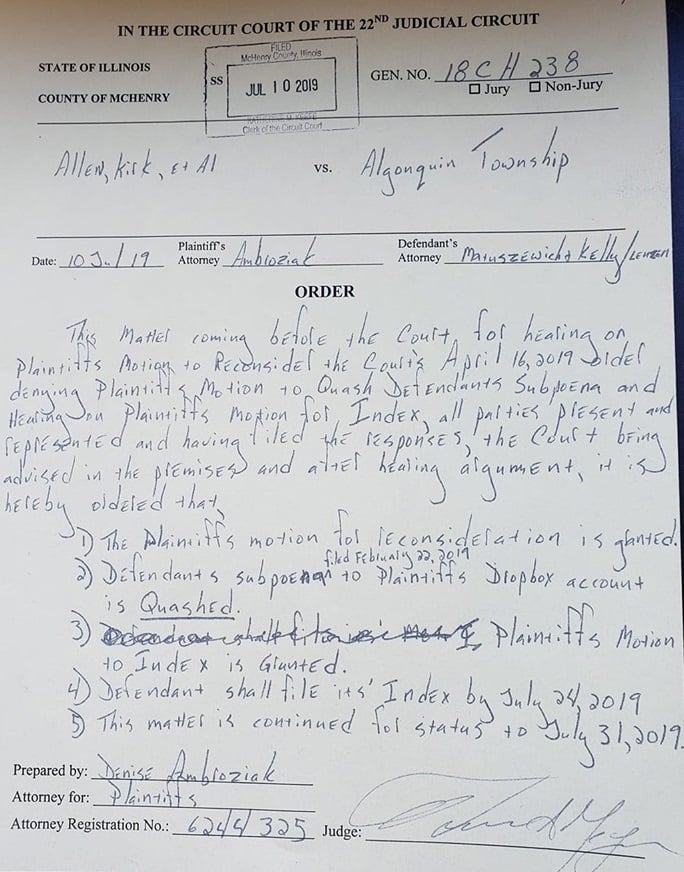 According to Section 11(e) of the Illinois Freedom of Information Act, the index shall include the following:
(i) A description of the nature or contents of each document withheld, or each deletion from a released document, provided, however, that the public body shall not be required to disclose the information which it asserts is exempt; and
(ii) A statement of the exemption or exemptions claimed for each such deletion or withheld document.
We hope, at this point, that Algonquin Township is getting tired of wasting tax dollars on irrelevant subpoenas, but only time will tell.
Our work is funded entirely thru donations and we
ask that you consider donating at the below link.