McHenry Co. (ECWd) –
Once again the Algonquin Township finds itself in violation of the Open Meetings Act.  This time with the clear assistance of their legal counsel, James Kelly.
Let's begin by once again calling for the immediate termination of James Kelly as the Township Attorney.  It appears his business model is one based on billing for advice that ensures more litigation, thus more billing.
The Attorney General PAC office made it clear in their determination letter that they do not agree with James Kelly, and that the Board did, in fact, violate the OMA.  Considering the reasons for not complying were at the hands of James Kelly, he should be held responsible and return all funds related to his game of questionable legal advice that continues to generate income. In this case, his advice appears to be in direct conflict with the mandate in the OMA law to turn over requested records to the AG PAC office for their review.
The mandate as pointed out by the AG PAC office:
"Under OMA, when forwarding to the public body a copy of a Request for Review, the Public Access Bureau " shall specify the records or other documents that the public body shall furnish to facilitate the review." (Emphasis added by the PAC) 
"the public body shall provide copies of the records requested and shall otherwise fully cooperate with the Public Access Counselor."  (Emphasis added by the PAC! )
Determination: 
"Despite this office' s express request to review the closed session materials from the Board' s January 19, 2018, special meeting, the Board did not provide this office with those materials: This office does not agree with Mr. Kelly' s unsupported assertion that disclosure of the requested closed session materials to this office would waive the attorney-client privilege, any more than would an in camera review by a court. The Board' s refusal precluded this office from fully reviewing this matter and violated section 3. 5( b) of OMA."
As everyone can see by reading the determination letter from the PAC, James Kelly once again placed himself in the center of yet another violation of the law by the Algonquin Township Board.  If the Board fails to act we are left to assume they condone this type of action from their legal counsel.
You can download the determination letter at this link or view below.
PAC Opinion – Algonquin June 6-2019
.
Our work is funded entirely thru donations and we
ask that you consider donating at the below link.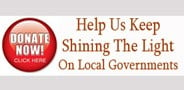 </