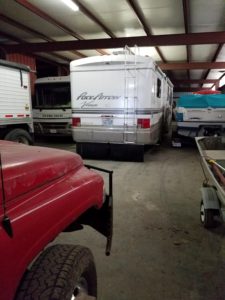 OAKLAND, IL. (ECWd) –
Glad to see they needed a large building…to store their privately owned recreational equipment and farming machinery in – and make the township taxpayers pay for it.
"Public funds, property or credit shall be used only for public purposes."
If you look at it, that is a powerful statement, and carries with it, powerful penalties. It is the first sentence in Article VIII, Section 1(a) of the Illinois Constitution, which is the supreme law of the state of Illinois.
The Constitution can be used as the predicate for Official Misconduct, which is a felony in this state – if you don't believe us, just ask the former Mayor of Pekin, Illinois – he was convicted and the Supreme Court upheld his conviction.
"We hold that a violation of the constitution can serve as a predicate unlawful act for the purposes of the official misconduct statute. Accordingly, the indictment against defendant in this case, alleging a violation of article VIII, section 1(a), of the Illinois Constitution, was sufficient. As such, we affirm the judgment of the appellate court." Illinois Supreme Court in People v. Lyndell W. Howard, 2008
Prior to doing things like parking your RV inside of a Township Road District building, you should probably ask yourself: "Is this a public purpose, or a private purpose for private gain?"
I believe we all know that answer, and we all know you cannot store your private RVs, boats, and grain trucks (or anything else) inside the taxpayer-owned buildings of the Township. Nor can you store your private trailers on the public property.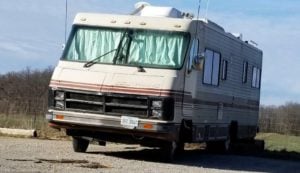 The private things being stored inside the township road district's buildings and in its parking lot, consist of at least 2 RVs, 2 boats, 1 farm grain truck, and another RV outside the building that we have pictures of.  There is also a red enclosed trailer behind one of the boats, a bulldozer, and red pickup.  The local word on the street is the bulldozer, pickup, and grain truck belong to the Township Highway Commissioner Brian Warner.
We know the owners of at least 4 of the licensed vehicles, and they are:
2000 Ford Motor Home – Rick Boes – Expired license plate
1995 Heritage Boat Trailer – Julie Boes – (East Oakland Township Supervisor)
2002 Damon Motor Home – Terry L. and Dale A. Hanner – Expired license plate (East Oakland Township Trustee)
2007 Chevrolet Cutaway – John T. Smith – (lives in Mattoon) Expired license plate
We submitted a Freedom of Information Act request for the following.
A copy of all payments received for rental of any Township property in the last 5 years.  
A copy of all current contracts/agreements for rental of any Township Property.
A copy of the Open Meetings Act Training Certificates for all elected officials in the Township.
A copy of the last 2 years of credit card statements for all credit cards used by the Township.
The response to the FOIA request tells us and the public everything we need to know as it pertains to this confirmed free storage for private property.
We have not rented any of the Township Property in the last 5 years.
We do not have any contracts for rental of any Township Property.
Even if a township could lease its building, which it cannot, an appropriate payment should have been made. No payments for use of this space were received in at least the last 5 years by East Oakland Township. So now we consider whether this was theft of use of public property – and we believe it is.  We can only imagine how long this practice has been going on.
In this case, we have elected public officials (Supervisor, Trustee, and Highway Commissioner) taking advantage of their position as a public servant and have done so for personal gain.  We believe that clearly constitutes Official Misconduct on their part.
We suggest these vehicles be removed immediately and that some sort of compensation is paid to the taxpayers of East Oakland Township for this illegal use of their building. Additionally, we suggest they resign their position as the public trust has been broken, not to mention the law.
.
Our work is funded entirely thru donations and we
ask that you consider donating at the below link.