Clark County, IL. (ECWd) –
The Clark County Sheriff's Department responded to a 911 call on an incident last weekend in which Charity Murphy, the Clark County Park District's Executive Director, and her husband, West Terre Haute Police Officer "Chuck" Murphy, and others got into an all-out brawl at the boat ramp. This happened on June 6, 2015 around 7:52 p.m.
It was reported to us that Charity became involved in "unsolicited assistance" in "advising" someone how to put their boat onto the trailer at the end of a day on the lake.
This unwanted advice apparently escalated into a brawl between two groups of people, with Chuck Murphy bearing the brunt of the actions and suffering from abrasions on his knees and elbows, and bleeding from a previous cut by his left eye.
[Charity] stated, during the 911 call, that she wanted to file a complaint against Tony Norman, an employee of Sycamore [Engineering].
According to the 911 transcripts, there were 15 people involved in the brawl and the caller stated "I've never seen anything like this."
No weapons were involved.
No arrests were made, the case was turned over to the State's Attorney's office.
Sheriff's report, obtained thru the Freedom Of Information Act, below:
[gview file="https://edgarcountywatchdogs.com/wp-content/uploads/2015/06/Altercation-at-Boat-Ramp.pdf" save="1″]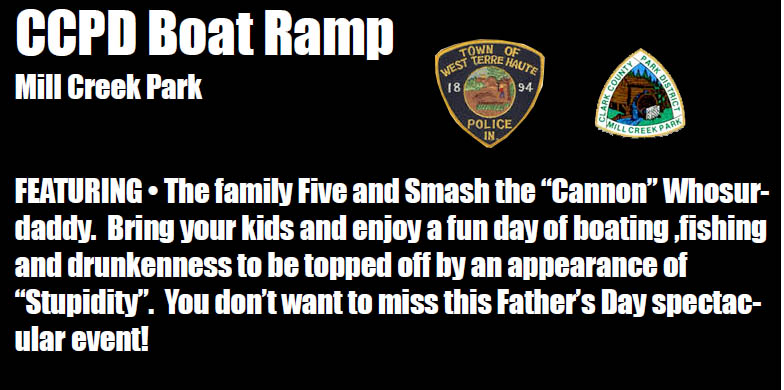 Now for some comedy:
[gview file="https://edgarcountywatchdogs.com/wp-content/uploads/2015/06/Battle-of-the-Ramp1.pdf"]