ORLAND PARK, IL. (ECWd) –
In a splendid effort to justify the unjustifiable, Dennis Walsh of Klein, Thorpe, and Jenkins Law Offices,  wrote several slime filled pages of "justifications" on why Lincoln's Birthday was not a holiday in Illinois when it comes to public meetings. This will turn out to be an epic failure at justifying the Orland Park Public Library's illegal February 12 special meeting.
He appears to have forgotten a few things, and one of those is the skillful investigative work of Megan Fox, of "Story Time With Megan Fox" and "PJMedia", who was informed of a book co-written by Mr. Walsh entitled "The Sunshine Laws – Open Meetings and Freedom Of Information Acts".
This book not only has Mr. Walsh as a co-author, the other 8 authors all work for the same law firm: Klein, Thorpe, and Jenkins. The book was written by them and is distributed through the Illinois Municipal League to assist and educate local governments on OMA and FIOA to keep them out of trouble with the law.
When this book referenced special meetings on "legal holidays" it specifically references the Bank Holiday Act as the source for determining what the Illinois legal holidays are. Yes, it also says you cannot hold a special meeting on those days mentioned in the Bank Holiday Act.
On their website (HERE) it is listed as a manual, and is sold thru the Illinois Municipal League (for $12.00) – there are several other manuals listed, I wonder if they have some of the same problems that this one has, or if he has argued against things written in them also.
Which leads me to a few questions:
1. How can he take several pages to argue on behalf of the OPPL in claiming Feb 12 is not a legal holiday, even going so far as to throw out the notion that the Bank Holiday Act is not the correct one to reference?
2. What will the public officials that have purchased this book think when they learn that he is now arguing in direct contradiction to his own book, and one produced by the law firm he works for?
3. Should he voluntarily search out all purchasers of the book, recall it, and refund their money?
4. Did he realize he was up against a "Mom with a Mission" (Megan Fox)?
See below:

.

.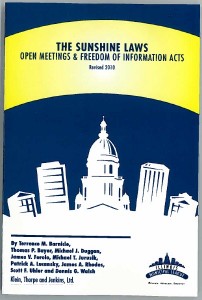 .