EDGAR CO –
There are several items to report around the area and we will lump them into one article.
Clark-Edgar Rural Water District
It appears that not one of the trustees of the water district has bothered to read the statute governing their district, and none of them are familiar with the Open Meetings Act either. At the last monthly board meeting, the board violated the Act several times – among them: taking action on items not on the agenda, taking action on items vaguely on the agenda, improperly going into executive session, improperly coming out of executive session, using executive session (according to the agenda) to discuss items not allowed to be closed to the public, hiring an additional attorney – a violation of the Act governing the board – to deal with FOIA requests, and hiring a treasurer after the other one quit her job.
In light of these obvious violations of the Open Meetings Act, I filed the below complaint with the Illinois Attorney General. I also sent a similar email to the Edgar County State's Attorney and the CERWD attorney.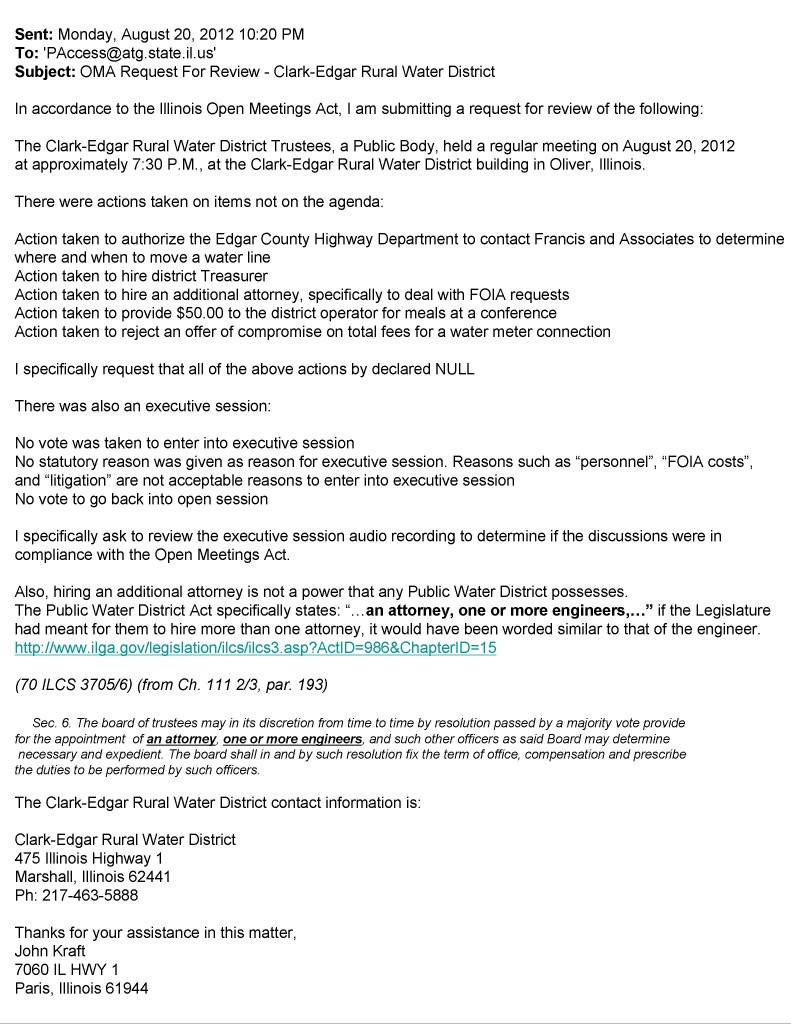 E911 – ETSB
In other news, there appears to be an epidemic in Southern Illinois when it comes to E911 (ETSB) officials. Except that other county E911 officials are being held accountable to the law. The below articles are recent examples of State's Attorneys actually taking action against public officials who forge claims, submit false claims, steal, misappropriate, provide Christmas bonuses, purchase Christmas presents, and violate the public trust.
WABASH CO – http://www.disclosurenewsonline.com/2012/08/24/e911-coordinator-busted-on-forgery-official-misconduct/  (subscription required).
Ten felonies – Former Emergency Telephone System Board (ETSB, or, E911) coordinator Colby Rigg, 30, of Bellmont,  is charged with five felony counts of Forgery and five Official Misconduct counts in connection with the Forgery counts. The investigation turned up that on at least five occasions over the past five years, Rigg is alleged to have, "with intent to defraud, submitted to the Wabash County Treasurer a document… for payment of expenses for the previous month.
SALINE CO – http://www.disclosurenewsonline.com/2012/08/24/county-boarde911-rep-under-investigation/  (subscription required).
Saline County board member Joe Jackson, who is also on the 911 board…stories continue to surface of investigations into wrongdoing, ambulances being dispatched from nearly a county away while another rig sits nearby, of board members serving their self interest, of backroom deals, of nepotism and possible criminal activity by board members themselves.
Kind of makes you wonder who is covering for who in Edgar County…
"Kansas 6"
It appears some of the 6 teenagers from Kansas, IL, recently charged with several felonies, are not taking the charges seriously. At least one of them was recently named as the provider of alcohol to a 16 year old girl, who got so drunk she passed out and the ambulance service was called to make sure she was still breathing. Great way to show the judge and prosecutor you are remourseful – keep it up.
In other Kansas, IL. news – In the past couple months there have benn mailbox explosions, trucks stolen and rolled over, and most recently a large number of automobiles and houses broken into.
Disclosure Heartland
The Disclosure Heartland is currently available for purchase at the following locations:
R & J's in Paris
Homer's Liquor in Paris (behind the Sheriff Office)
Gas station in Kansas
Y-Not shop in Vermillion, IL
Please thank them for carrying the paper when you visit.
Free Driveway Update
Information obtained in the past week or so points towards an Illinois Department Of Transpartation (IDOT) investigation into the misuse of Motor Fuel Tax (MFT) funds by several Edgar County Townships and possibly one Municipality in Edgar County. This stems from an article we published detailing the use of Public Funds for private purposes in providing driveway oil and chipping services on private property.