Champaign Co. (ECWd) –
The Illinois State Police and the City of Urbana, after being sued under the Freedom of Information Act for improper redactions, have provided unredacted records pertaining to the allegation of criminal shoplifting by State Representative Carol Ammons. Initially, both agencies redacted Ammons's name.
According to the ISP report, "There is video surveillance footage of the alleged theft."
We urge everyone to read the full reports from both the ISP and the Urbana Police Department, watch the video, and draw their own conclusion about the actions of State Representative Carol Ammons' alleged theft of a purse.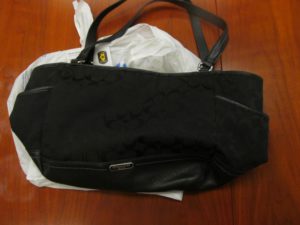 "Ammons is observed reaching her right hand into the purse. A few seconds later Ammons steps away from the rack and a white object appears on the floor near Ammons feet. It should be noted this white object was not on the floor when Ammons walked to the rack."
"Ammons arrived at office approximately five minutes later. reiterated she figured Ammons wanted to talk to her about the theft of the Coach purse. said she did not inform or indicate to Ammons that she (XXXX) already knew about the incident. Ammons told she was embarrassed about the incident and it was a misunderstanding and wanted to either pay the auxiliary resale shop for the purse or return the purse to them."
"Ammons asked XXXX to not prosecute her. XXXX told Ammons she would have to follow up with Carle Security about the incident."
"Robinson asked XXXX if she wanted Ammons prosecuted or not. Robinson and Barnard explained to XXXX that they would take her decision into consideration either way and explained that by prosecuting Ammons may have a negative effect on the resale shop, since Ammons had shopped there several times in the past.  I stated that by not prosecuting Ammons might also create negative backlash for the resale shop. XXXX said she, on behalf of Carle Foundation, did not want to be part of that decision and wanted to leave that completely up to the prosecutors."
"XXXX reiterated to us, the same as she did to the Urbana Police officer, that when she found the tissue paper in the dressing room, she knew there was no way it had just fallen out of the purse; it was purposely placed behind the chair in the dressing room."
"XXXX and XXXX said that since this incident had occurred, people who know Ammons have come into the store and made comments to the employees such as, " said you guys rang up the purse as $8 instead of $80." XXXX advised there was no way that was possible."
"Ammons advised in her interview that she gave the black Coach purse to her friend XXXX XXXX"
"Once Ammons arrived, Ammons repeatedly told XXXX how she was "so embarrassed, so embarrassed" over the incident. XXXX said Ammons explained how she had recently visited the Carle Auxiliary Resale Boutique and had "accidentally" walked out of the store with merchandise she did not pay for. "Please don't prosecute me," XXXX remembered Ammons asking her."
"I told Ammons we have video surveillance of her walking to the store with just a clutch purse. Then after she looked around the store she went into the dressing room, paid for some items and walked out of the store with a Coach purse, which cost $80, which was not paid for. Ammons' response was, "I don't recall doing that at all." She
reiterated that she does own a Coach purse, but they're not the same. I told her, again, that we have video surveillance of the theft." (emphasis added)

"I told Ammons that her mannerisms in the video showed me this was not the first time she had stolen something. She responded that she thought she had paid for the purse." (emphasis added)

Reading the entire file is most telling, but the Perry Mason moment is found in one of Ammon's responses.
"I asked Ammons if she was denying taking the purse without paying for it, and she said, "I don't remember taking a purse without paying for it. I do have a Coach purse and I have one that I can show them; it's similar but it's not of course what they're missing." (emphasis added)

"I asked Ammons how she knew which purse was stolen" (emphasis added)

A copy of the ISP report can be downloaded at this link or viewed below.
A copy of the Urbana Police Department report can be downloaded at this link or viewed below.
The video's from the retail shop can be viewed below.
There are no publicly available records of any prosecution of Ammons. 
Records Combined_Marked- Modified_Redacted

U20-134 - Re-redacted