McHenry Co. (ECWd) –
Selective wording in reporting is often done for the purpose of supporting a narrative being pushed for all kinds of different reasons.  Reporting is not just done by media.  For example, Algonquin Trustee Rachael Lawrence sent an email to the Highway Commissioner Andrew Gasser that states she sent the same communication to the Township Trustees.  That email is Lawrence basically reporting to the others as to why she is going to vote for the salt bill which has gone unpaid since December of last year.
What happened before this change of heart?
August 8th, 2019, I asked Trustee Lawrence, "Who is the Board to determine what bill is not lawful?"

I asked that specific question because, during a social media comment by Lawrence, she raised this question to John Kraft, "Who is the Board to determine what actions are lawful or not?"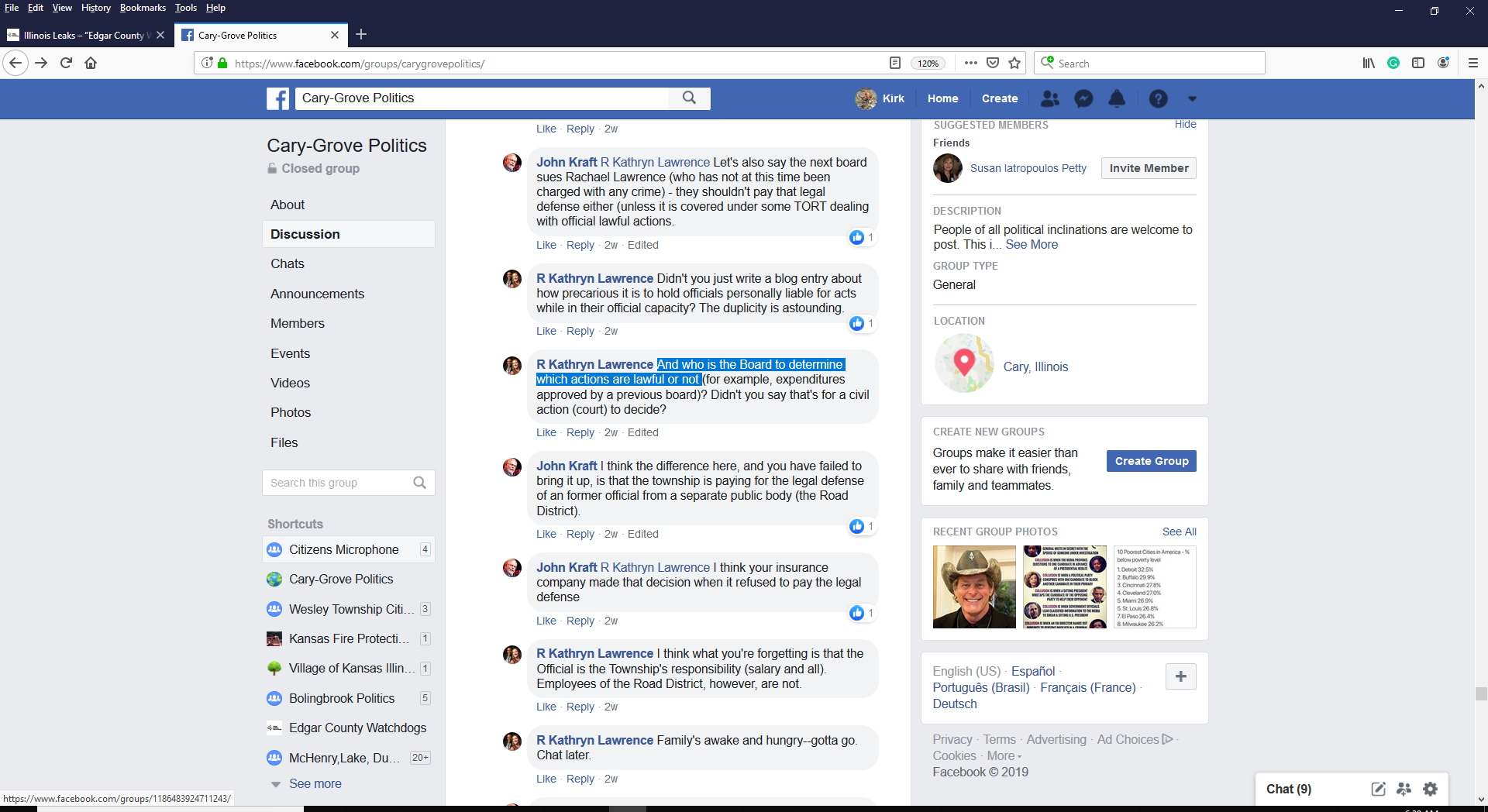 She followed up with an example related to the particular discussion taking place.
The question was worth noting because Lawrence has taken the position that the salt bill presented every month was unlawful and has refused to pay that bill for that reason.
Lawrence refused to answer my question and told us we should FOIA the Township or ask the Township Attorney for answers to our questions among other things.  Considering this is, in fact, directly related to Township Business, a criteria Lawrence had insisted upon for a response, it appears this question put her in a real box and rather than answering she chose to go off on a tangent filled with unrelated matters and refusing to answer a simple question,  "Who is the Board to determine what bill is not lawful?"
For a public official to refuse to pay a bill by claiming it is unlawful is inconsistent with the question she raised to us on social media.  Yes, the online question was on a different topic but the question itself applies to her very actions of refusing to pay the salt bill.  We encourage everyone to read the entire email exchange to better understand the box Lawrence placed herself in with her comments at board meetings and social media.
So there is no confusion of her past position on the salt bill, we looped her comment at the June 2019 Trustee meeting regarding the salt bill.
Three days after my question, Lawrence has an epiphany.
August 11, 2019, the Northwest Herald reports that Lawrence has rethought her position on the salt bill.
Lawrence's new position is inconsistent with her prior words. The past position was based on the statement of fact, "it's still unlawful", but after being questioned on that matter the tune has changed to "based upon the belief that the board was unable to legally pay for a bill generated from a contract believed to be void."
So what is the real truth on this matter?  Claiming something is unlawful is a far cry from believing the board was unable to legally pay a bill because you believe a contract was void. Most see the game being played as it was Lawrence that saught the criminal investigation for the salt delivery. We covered why it was not criminal at great length in this article, which from that day forward, Lawrence has been on a mission against Gasser and our organization to a point of even filing bogus criminal complaints against Gasser and spreading false information about us.
Was it not paid in the past because it was unlawful as Lawrence told the public during the meeting or was that just a way to cast more dispersions and negativity on the Highway Commissioner?  Her email to the trustees points to the latter and is worth a dedicated article to point out all the inconsistent information.
Regardless of her reasoning shared with others, the salt bill has been paid and now Lawrence can hold her head high for looking after the interests of her constituents, or can she?
We have said for years, Says Who and With What Proof?
Within Lawrence's email she states, "I am informed by one trustee that, once back payment is made, the Algonquin Township Road District may be once again eligible for bids much lower, potentially saving taxpayer funds in the six-figure range."
While we do not know which trustee made such a statement, it appears that position was believed while the actual record reflects a price even higher than last year.
According to Central Management Services, the state agency in charge of the bidding, "..CMS has consulted with a vendor, Compass Minerals, about acceptance of your requirements. ( Price $97.75 for 4500 tons ) Their acceptance is contingent upon "until customer brings their account current with Compass Minerals and payment of outstanding account balance is received in full", CMS cannot proceed with assigning your unit to this vendor's forthcoming contract until we receive notification that this matter is resolved."
We confirmed, if the bill is paid in full, the sale price is $97.75 per ton for the purchase of 4500 tons.  Hardly a figure that potentially saves taxpayer funds in the six-figure range as referenced by Lawrence.  The facts of the matter, paying the bill ensured salt could be purchased for the upcoming season and it will cost more than last year.
While there is a lot of misinformation that has been spread and published on the salt bid issue, the facts tell the story.  The very board who refused to pay a legal bill for a salt contract awarded to Compas Minerals after they were the sole bidder is the same board that approved similar bills the year before for when there was no bidding at all and said nothing.
The board's refusal to pay last years' salt bill for eight months has ensured they have cost the taxpayers even more on future salt purchases, based off the communication from CMS that points to an even higher price for salt than what was charged last year.
Yep, Lawrence is on top of things!
.
Our work is funded entirely thru donations and we
ask that you consider donating at the below link.