McHenry Co. (ECWd) –
While former Trustee Victor and current Trustee Rachael Lawrence filed an unfounded criminal complaint alleging extortion & official misconduct by the Highway Commissioner in January (Extortion article here), there is a mysterious silence on what appears to be official misconduct by the Township Clerk and possibly facilitated through her attorney.
The McHenry County Blog posted a copy of an email from the attorney David McArdle sent to the Algonquin Township attorney James Kelly which contained a proposed settlement which can be viewed below.
One of the prongs of Official Misconduct, a statute specifically created for public officials and employees, outlines key language that appears to parallel language in her attorney's email to Kelly.
(720 ILCS 5/33-3) (from Ch. 38, par. 33-3)
Sec. 33-3. Official misconduct.
(a) A public officer or employee or special government agent commits misconduct when, in his official capacity or capacity as a special government agent, he or she commits any of the following acts:
(4) Solicits or knowingly accepts for the performance of any act a fee or reward which he knows is not authorized by law.
How is seeking a settlement offer ("solicits") of $65K in exchange for her to withdraw her suit (performance of an act and a reward for such, an act not authorized by law), not a perfect match to section (4) of the Official Misconduct statute?
One key word in that section is "knows".  Did Lukasik know her solicitation of money in exchange to withdraw her lawsuit could be a criminal act?
While Lukasik may not have known such a solicitation could be criminal, the same may not be the case for an attorney who facilitates the matter by sending the email on her behalf.
An ARDC request for an investigation into possible misconduct may be in order for David McArdle.
A request for comment to Attorney McArdle has not been answered at the time of publication.  In the event comment is provided we will update accordingly.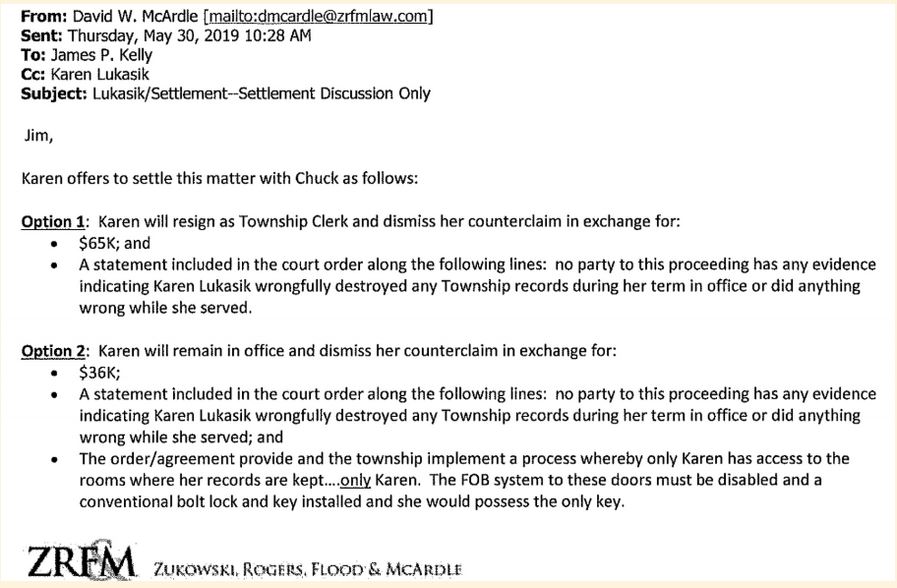 .
Our work is funded entirely thru donations and we
ask that you consider donating at the below link.