McHenry Co. (ECWd) –
Last month we exposed the fact the Algonquin Township Attorney negotiated a tax settlement which resulted in a court order for two tax objection lawsuits, even though the Township Board had not taken appropriate action to settle those cases.  (Article here)
A Comment on Facebook by Trustee Lawrence appears to point to the board taking action in closed session.
"We give direction by consensus in closed session for obvious reasons, and plans are already in place to announce the outcomes at the next regular board meeting."
The Trustees and their attorney at the College of DuPage a few years ago tried a similar stunt by having a show of hands as a consensus on a matter.  The State's Attorney prosecuted that case as an Open Meetings Act violation for taking action in closed session and the College pleaded guilty.
Consider the Tax Objection order has been issued by the courts and it was based on the Board providing consensus in closed session, it points to a clear Open Meetings Act violation.  We urge the McHenry County State's Attorney to prosecute this case in the same manner as was done in DuPage County.
The agenda for this weeks Algonquin Township meeting has "Approval Settlement of litigation 16TX30 and 17TX11."
Cart before the horse?
Considering the Township Attorney has already agreed in court to an order on those two lawsuits, there does not appear to be anything for the board to act on, other than maybe finding a new attorney that knows how to negotiate down instead of up and then only agrees to a court order that first has board approval.
We find it very odd that an attorney who claims to know local government laws would actually make such an entry in the court when this client has not voted on any such settlement.  We wonder if the ARDC would have an interest in this matter and suspect they could include it with the current ARDC complaint against James Kelly. He can turn to his Trustees for his defense and tell the ARDC, the Board gave "direction by consensus in closed session". 
We contend that any direction given in closed session that results in final action (court order), violates the Open Meetings Act.
You can download an image of the agenda at this link or view below.  At the time of publication, no agenda was posted on their web site for Wednesdays' meeting.  Even though taxpayer funds are used to maintain the web site, they are not obligated to post it on the website since it is not being managed by a full-time staff member of the Township.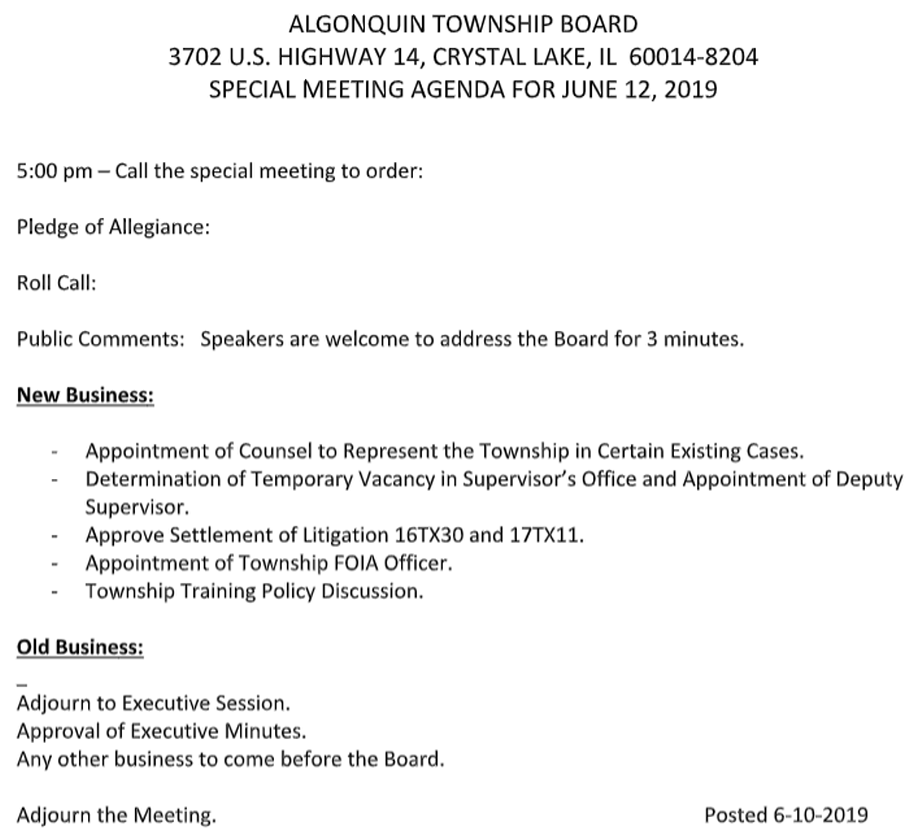 .
Our work is funded entirely thru donations and we
ask that you consider donating at the below link.