ATLANTA, IL. (ECWd) –
An explanation, by candidates for library trustee, of alcohol purchases and consumption on the Atlanta Library District's property is somewhat, and I believe intentionally, misleading. This statement was put out on the "Write-In Candidates For Atlanta, Illinois" Facebook page: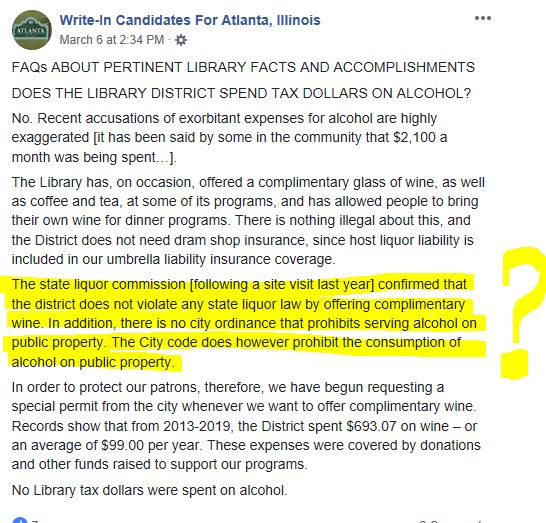 The Illinois State Liquor Commission investigated a complaint of alcohol purchase, use, and consumption by/at the library, without possessing the necessary liquor licenses/permits to do so.
According to the report, library officials admitted to purchasing alcohol using the public funds of the library (credit card), and admitted permitting people to consume alcohol at certain library events.
One comment by Bill Thomas confirms the suspicion of "linger longer" events and consumption of alcohol by board members after board meetings – which has been publicly denied in the past. In the end of the paragraph on page 2 of the report, the investigator says the Bill Thomas told him "that if any alcohol was consumed after any business meetings of the Board, it was alcohol brought by members of the Board, not the alcohol purchases for the civic events." Also, please note where the public Facebook post indicates knowledge of the prohibition of consuming alcohol on public property in Atlanta, Illinois.
The investigative report continues by saying the Atlanta Library Board President Randy Brooks and the Mayor Fred Finchem were both notified that the Library needed to obtain the required licenses and permits to continue what they had been doing. The investigator recommended they obtain advice from the city attorney on how to apply for, and get, any required licenses and permits for future events involving alcohol within the village.
Their Facebook post, however, leads people to believe that the State Liquor Commission said the library did not violate any state liquor law. We fail to find that statement within the reported findings from the Commission. The post further states that "in order to protect our patrons" they would start obtaining permits – we believe the reason is to protect the library, not the patrons.
At least three times in the investigative report, the investigator indicates that proper licenses and permits need to be obtained by the library – so we can't figure out how the candidates came to the conclusion they were not violating any state laws…unless they used the word "state" to muddy the waters for their readers.
ILCC-APLD

.