ATLANTA, IL. (ECWd) –
Today, Dawn Wintz, an employee of the City of Atlanta in the capacity as an EMTS with the Atlanta Rescue Squad, decided to attend the write-in candidate Meet and Greet.
The problem is that she used a city vehicle to participate, through attending the political event.
She even admitted to that fact, and admitted to illegally parking her private vehicle, at least according to Atlanta City Code 9-2-3, in a Facebook posting: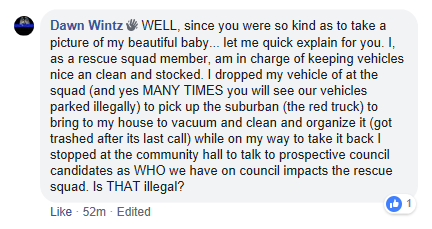 Yes, Dawn, we would argue that you may have run afoul of state law.
The Illinois Constitution, Article VIII, Section 1(a) prohibits the personal use of public property, and the Illinois State Officials and Employee Ethics Act, 5 ILCS 430, which each local government must also comply with through their own policies no less strict than the statues, is what governs prohibited political activity.
So either this was a personal visit using a city vehicle, or it was a prohibited political activity – either way it was wrong.
.