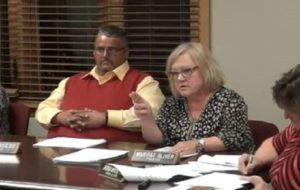 BOLINGBROOK. IL. (ECWd) –
During last week's DuPage Township Board of Trustees meeting, Trustee Burgess decided to level unsubstantiated and clearly false accusations against certain children, a non-profit organization, and a candidate for elective office. Apparently, he saw a candidate that he did not like walking in a parade with children (who happen to be in a community service program) and accused the non-profit of supporting a specific candidate or candidates. We believe Burgess was desperate to malign a candidate and used troubled children in an attempt to bring discredit upon her. The video is below, but we suggest you read this article prior to watching the video.
In Dr. Ingram's demand for a retraction of a misleading Herald News article on the matter, he states:
"Our community service and court-ordered program offer our student's opportunities to help them to "positively" engage in their community while completing our court-ordered program.  However, such opportunities are "strictly" voluntary and do not conflict with the "rehabilitation" of their juvenile delinquency charges which is the stated goal, purpose and mission of our 501(c) 3 organization. Our organization DOES NOT endorse any political party or candidates. Our organization did not provide transportation to or from any voluntary events.  It is solely up to the student to confirm if they want to participate in voluntary events. We simply provide our students with various opportunities to positively engage with their communities, via parades, community celebration, events etc. during the program.  However, these extra activities are not "mandatory" or a requirement for completing of our program."
First things first, DuPage Township Trustee Burgess has been a vocal opponent of State Representative Candidate Benford. Any complaints or requests for investigation should be directed to the Bolingbrook Police Department or the Sheriff's Department. Burgess used his trustee comment time during a public meeting in which he is a board member, to electioneer against a person he has been a vocal opponent of, and he did this by dragging a good organization (and the children they serve) thru the mud when that organization did absolutely nothing wrong.
The H.E.A.R.T. Organization simply suggested its students participate in a parade and learn positive community interaction through a hands-on approach. This was not a supervised event and was not in any way a political statement (by HEART), either in favor of or against a candidate for office. Instead, thanks to Trustees Burgess and Oliver, what these students learned is that no good deed goes unpunished – damn the truth.
Interesting Fact: When I asked Burgess after this meeting if he would send the same type of letter to the State's Attorney about the Township's Supervisor and illegal advanced pays, Burgess refused to answer anything and repeatedly told me to "quit bullying him" as I followed him to the door repeating my question. If this was not a purely political stunt during a public meeting, and if Burgess was genuinely interested in reporting alleged criminal activity, surely he would report those illegal pay advances…wouldn't he? Of course not, and I was bullying him by asking LOL.
FROM THE VIDEO:
Trustee Burgess said: "I know this family and they would not volunteer for anything" – wow. What a statement. I'd bet they feel really good about now… Thanks for trashing one of the children, and the child's family, in the HEART Program.
Lie #1: Participants in the H.E.A.R.T. program were given time off to participate in a parade in support of a candidate for office.
Actual Truth: Benford is a candidate and asked for people to walk in the parade with her. People that just happened to be participants in the H.E.A.R.T. program were present and agreed to walk in the parade with Benford. The organization was not involved in who the walkers walked with in this parade, or whether they walked in the parade at all.
Lie #2: Candidate Benford is the "Business Operations Manager for the H.E.A.R.T. Organization."
Actual Truth:  Benford is the "CPA of Record" – the "Agent of Record" – as filed with the Illinois Secretary of State. The CPA is a contract with the HEART and is in no way to be construed as an employee, board member, or anything else. The Agent of Record is merely the person who files the annual reports with the Secretary of State, and it is common practice to have attorneys or the financial people file these annual reports on behalf of the organization. She is not the Business Operations Manager as was falsely claimed.
Trustee Oliver took up where Burgess left off. Oliver stated that "ignorance of the law is no excuse" and "we can choose our sin, but we cannot choose our consequence" (and we agree) so we urge her to put her own words in action and invite her to file a criminal complaint against the Township Supervisor for his illegal advanced pays, so that he is prevented from choosing his own consequence (which at this point is no consequence). I won't hold my breath, as I believe her speech was also political and that she was not given all the information from Burgess prior to that meeting.
Lie #3: Trustee Oliver claimed it was a "court order that those kids be there every night" and that they were given a night off if they walked in a political parade
Actual Truth:  Nobody told the kids to walk in a political parade. There is no court order specifying the kids had to be there "every" night.
Witness this political grandstanding in the video below:
.