DeKalb, IL. (ECWd) –
Northern Illinois University sent an email to a FOIA requester notifying him that he was in possession of Attorney-Client privileged information that was provided to him via a recent FOIA request, and demanded he returns it, destroy his copies, and notify anyone else that may have received it that they were to do the same.
We decline their invitation to not use the information provided under FOIA.
Read NIU's demand here:
"…you have brought to the attention of the University that you are in possession of privileged communications between University officials and retained outside counsel for the University (namely, Chapman & Cutler).  In its preliminary review of this situation, the University believes that these privileged materials were inadvertently released to you pursuant to a FOIA request.  The University is providing you with express notice that it has not waived any defenses, privileges, or rights under applicable law in relation to these documents, and that you are not authorized to retain or further disseminate such privileged materials to others.  The University requests that you promptly return any and all copies of such communications with Chapman & Cutler and that you not retain or use any further copies of the records, or the information contained in the records, in any form or format at all.  If you have further disclosed these records and/or the information contained within the records, NIU requests that you retrieve those disclosed materials and inform those individuals that they are similarly not authorized to retain or use those records, or the information contained within.  Thank you for your cooperation."
We located what we believe they were talking about, and it concerned NIU's use of Bond proceeds.
That email is provided below (click to enlarge):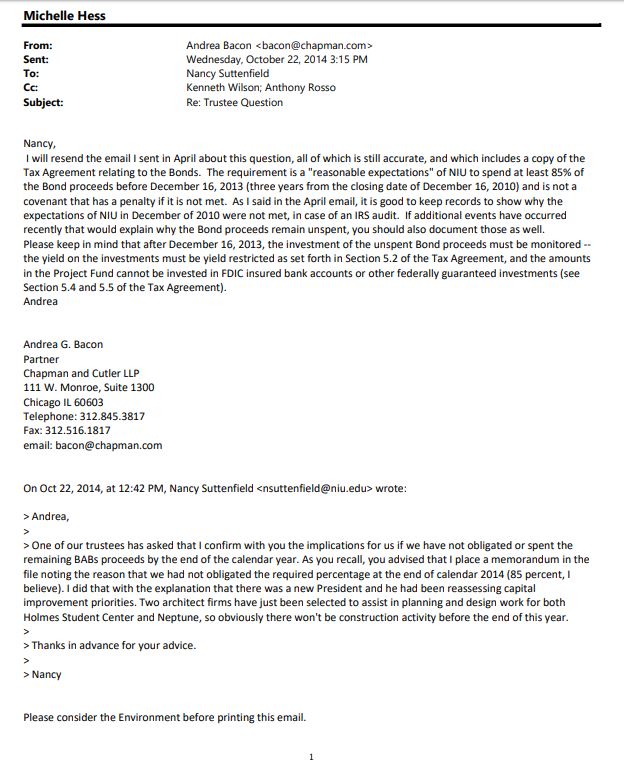 .
Our work is funded entirely thru donations and we ask that you consider donating at the below link.