NEWTON, IL. (ECWd) –
We know, it's pretty sad when actually receiving a proper FOIA response can garner a headline.
Within a half an hour of publishing this article about an incomplete response to a FOIA request for all emails of the school district, Mr. Johnson, Superintendent, provided what I believe is the complete listing of all emails of the "@jccu1.org" domain owned by the school.
See them here (click here).
Additionally, he sent a message in the body of the responsive email, saying I should have communicated with him further instead of filing complaints to the AG which are "unnecessary" and cause him more work.
We take issue with that idea, since the proper way to appeal unanswered or incomplete FOIA requests are either through the Courts [5 ILCS 140/11], or filing a Request for Review with the Attorney General's Public Access Counselor [5 ILCS 140/9.5].
The AG complaint process is certainly cheaper on the requester, conserves judicial resources, and should be cheaper on the public body (unless they pay an attorney to write colorful and inaccurate letters) to respond to the AG.
Besides, I already tried his preferred communications process, which wasted time, and still ended up with complaints to the AG-PAC.
Our work is funded entirely thru donations and we ask that you consider donating at the below link.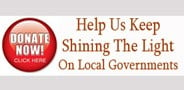 <