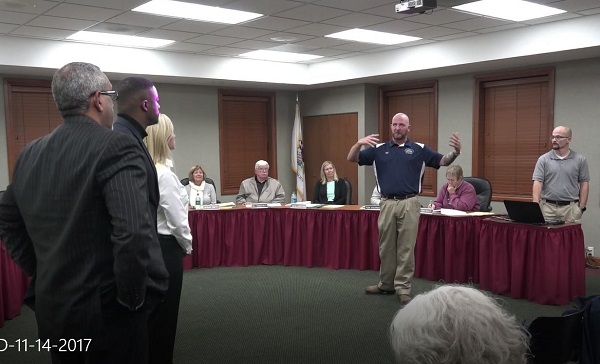 MATTOON, IL. (ECWd) –
The Mattoon School District held a meeting this evening in which one of the items was a presentation by Todd Ratliff.
Todd and Becky Ratliff own and operate "Total Home and Farm Video Solutions" ("THFVS") out of Mattoon. They are a local, veteran-owned company who hires veterans and other local residents.
Ratliff presented a donation of a state-of-the-art video surveillance and security solution to the school district. In conjunction with his donations, he presented representatives from Panasonic and Razberi. Panasonic agreed to donate the cameras and software, and Razberi agreed to donate the servers and additional security software.
This will assist in a more secure and friendly environment for the students of the district, and enable parents to have more peace of mind when their children are at school.
Donations include:
60 – cameras from Panasonic with a value of over $33,000
3 –  ServerSwitchIQ Pro systems from Razberi with a value of over $20,000
All the boxes, radios, cabling, and mounts were donated by THFVS with a value of around $9,500
Additionally, the Mattoon School District will cover the prevailing wage labor at a cost of around $20,000
The Board unanimously accepted the generous donation.
Video below:
Our work is funded entirely thru donations and we ask that you consider donating at the below link.
There is also a box to check for monthly recurring donations.
Thanks in advance.