EDGAR CO – Like father like son – What can we say…
Legislative Scholarship for Sister-in-Law
On the subject of Legislative Scholarships, Matt Eddy, the son of former Illinois State Representative Roger Eddy, while working as an aid for Rep John Cavaletto, assisted his sister-in-law (Jessica Foutch) in receiving a legislative scholarship.
I'll try to set the scene here:
Matt Eddy is married to Lindsey (Foutch) Eddy (graduate of Salem High School)
Lindsey Eddy's sister is Jessica Foutch (from Salem, Illinois)
Jessica Foutch was awarded a legislative scholarship by Rep John Cavaletto (Matt Eddy's employer) for FY10/11 year, including summer at SIU-E, for Corporate Communications
How did he manage to accomplish this? By being the person that reviewed the scholarship applications prior to forwarding them to Rep Cavaletto's scholarship committee.
More on Matt
He works with the Illinois Comptrollers Office as a "Local Government Coordinator" and was paid over $45,000 last year in that position. There are only 2 of these positions in the state, so he must be keeping busy, LOL.
He also draws a paycheck as an aid to Rep Cavaletto and drew contractual pay from the People For Eddy campaign. Funny how these other jobs didn't make onto his "Statement of Economic Interest" for this year, which he did sign on April 9, 2012. Looks like the apple didn't fall too far from the tree, as the For The Good Of Illinois PAC did an article on Roger Eddy's ethics law violations back in February.
Whatever the case, it apears he has violated the Illinois Ethics Law (among others)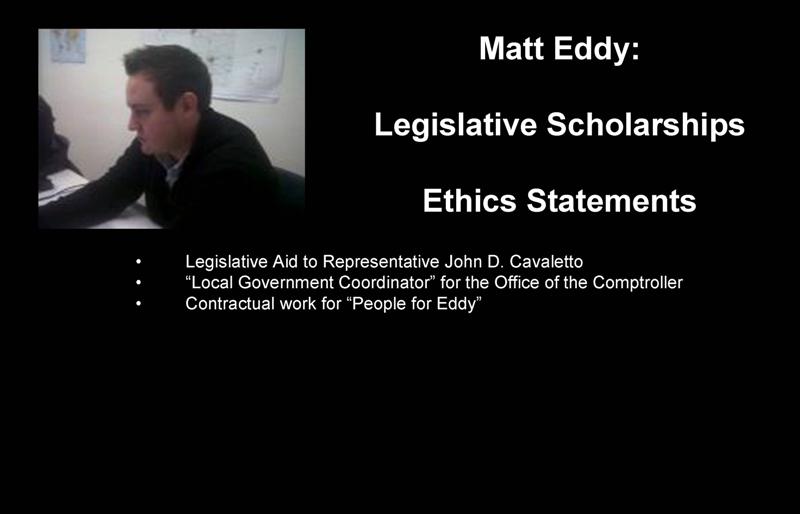 and should be held accountable.